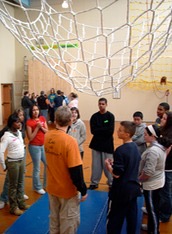 The Adventure Center is the only complete Low AND High Element Challenge Course in Central New York that is indoors. It was built to reach the young and the young at heart of the community surrounding Syracuse. At the Adventure Center "Adventure Training" is used to make a positive difference in people's lives and the groups they work and play with.
The Adventure Center is inside where it is always warm and cozy. It was built in a converted gym and features a 40' X 22' climbing wall, cargo net, team wall, Giant Swing, Pamper Pole, Human Elevator, Centipede, Dangle Trio and Two Line Bridge. Watch for pictures of our 6 new High Elements just completed on the Adventure Center website.   
The Adventure Center is a non-profit center located in the village of Liverpool, NY in the former Zogg Building that is now the home of Liverpool Community Church. If you are part of a youth oriented organization like the scouts, church youth group, or sports team call the Adventure Center directly to set up a workshop with their dedicated staff at (315)701-0857.
Directions: From the village of Liverpool, NY drive north on Rt. 57 to 4th street. Turn left and go 4 blocks. Turn right onto Hickory Street then a quick right into the Liverpool Community Church parking lot and enter through the main entrance and follow the signs to The Adventure Center. 
 Note: The Adventure Center was forced to move out of the building it was in for 8 years because the building was sold. We are looking for an appropriate place to reinstall all of our fun games and initiatives. Any ideas, give us a call.